Nunes slams Schiff over threat to hold GOP &#039accountable&#039 for probing alleged surveillance of Trump campaign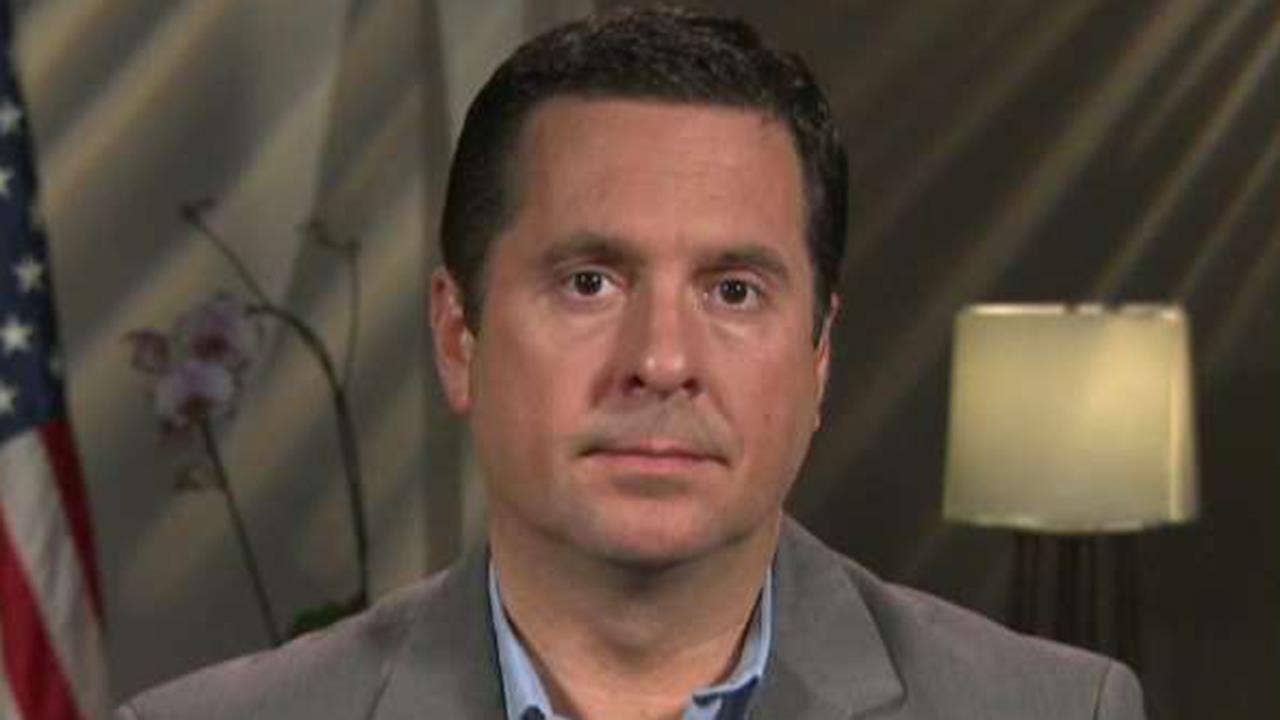 Residence Intelligence Committee Chairman Devin Nunes on Monday dug in following Democrats warned Republicans that &quotthey will be held accountable&quot for damaging the FBI and Justice Division during their probe into possible government surveillance abuse.&nbsp
&ldquoWe&rsquore not gonna be threatened by the Democrats. They are the ones that have all this blood on their hands,&rdquo Nunes told Fox News&rsquo Laura Ingraham on &ldquoThe Ingraham Angle.&rdquo
&ldquoThey're the ones who completely destroyed the FBI and DOJ. How did they do that? They did that by digging up dirt, the Clinton campaign dug up dirt, put it into a dossier, fed into the FBI and the FBI used our counterintelligence capabilities against a political campaign,&rdquo he said.
&ldquoThey are the ones that have all this blood on their hands. They&#x27re the ones who fully destroyed the FBI and DOJ.&quot

– House Intelligence Committee Chairman Devin Nunes
Rep. Adam Schiff, D-Calif., known as Nunes and 3 other Republicans &ndash Reps. Trey Gowdy, R-S.C., Mark Meadows, R-N.C. and Jim Jordan, R-Ohio– the &ldquofour horsemen of this apocalypse&rdquo on CNN last week.
Schiff accused the group of attempting to weaponize supplies about the alleged surveillance of the Trump campaign amid Nunes&rsquo letter calling to interview more than a dozen former FBI and DOJ officials, like fired FBI deputy director Andrew McCabe and embattled FBI official Peter Strzok.
&ldquoThey have been major the charge fundamentally to need the Justice Department to give them components that can be leaked or fed or misrepresented, like the infamous Nunes memorandum, in the service of the president,&rdquo Schiff said. &ldquoAnd in the meantime, they do massive damage to these institutions. In the end, they will be held accountable.&rdquo
Nunes sent a letter final week urging the Oversight and Judiciary Committees to interview the officials about achievable government surveillance abuse during the 2016 election as they might &ldquohave relevant details.&rdquo
NUNES Desires ten OFFICIALS WHO SERVED For the duration of OBAMA ADMINISTRATION TO TESTIFY ON RUSSIA PROBE
Nunes named on the Oversight and Judiciary Committees to interview former State Department officials Elizabeth Dibble, Jonathan Finer, Kathleen Kavalec, Lewis Lukens, Victoria Nuland, Thomas Williams and Jonathan Winer, as well as former Obama White Property officials Jake Sullivan, Colin Kahl and Shailagh Murray.
&ldquoFor the sake of transparency and to keep the American people as fully informed as attainable about these matters, the activity force need to take into account interviewing these individuals in an open setting,&rdquo Nunes wrote in the letter.
Fox News&rsquo Catherine Herridge and Alex Pappas contributed to this report.
Published at Tue, 03 Jul 2018 08:40:00 +0000